 1 Dose x Advantix for dogs and puppies up to 4kg
---
1 Dose x Advantix for dogs and puppies up to 4kg

Monthly spot on treatment containing imidacloprid 10% m/v and permethrin 50% m/v for the prevention and treatment of ticks, fleas, flies and mosquitoes on dogs and puppies 7 weeks of age and older. Repels and kills ticks on dogs for up to 4 weeks. Kills fleas on dogs within 1 day and prevents infestation for at least 4 weeks. Controls flea allergy dermatitis in dogs. Kills fleas before they can lay eggs and flea larvae in the dog's surroundings. Kills mosquitoes and provides repellent (anti-feeding) activity for 2 to 4 weeks. Can be used on pregnant and lactating bitches. DO NOT USE ON CATS. REG. NO. G3536 (ACT 36/1947)

DO NOT USE ON CATS. In the absence of available data the product should not be used on puppies of less than 7 weeks of age and 1,5 kg of weight. Consult your veterinarian before using the product on sick and debilitated dogs.
---
Order Online - Save your Time & Money
1 Dose x Advantix for dogs and puppies up to 4kg
Designed exclusively for dogs, Advantix is the only spot-on that kills and repels deadly ticks before they have a chance to bite and attach to your dog. Plus, it protects against fleas and irritating, flying biting insects.
Ingredients
Imidacloprid 10 % m/v
Permethrin 50 % m/v
Dosage: Use one per dog weighing. Monthly treatments are required for optimal control and prevention of ticks, fleas, flies and mosquitoes. DO NOT USE ON CATS.
For easy application your dog should be standing. The product should be applied evenly to 2 spots on the top of the back from the shoulder to the base of the tail. Part the hair, place the tip of the tube on the skin and squeeze firmly several times to empty the contents directly onto the skin.
Ticks already on the dog may not be killed within 2 days after the treatment and may remain attached and visible. Therefore the removal of ticks already on the dog at the time of the treatment is recommended.
Biting lice infestation: In the case of biting lice infestation, a further veterinary examination 30 days after treatment is recommended as some animals may require a second treatment.
Swimming and shampooing: The product remains effective if the animal becomes wet. If the dog needs to be bathed, this should be done before product application. Wait until the dog is completely dry before applying Advantix. This could take up to a day depending on the hair coat density and length. Frequent shampooing or daily swimming may have an effect on the duration of the efficacy of the product.
How to apply Advantix®
Part your dog's hair until the skin is visible.
Squeeze the pipette evenly onto four spots along the skin of your dog's back, from the shoulders to the base of the tail.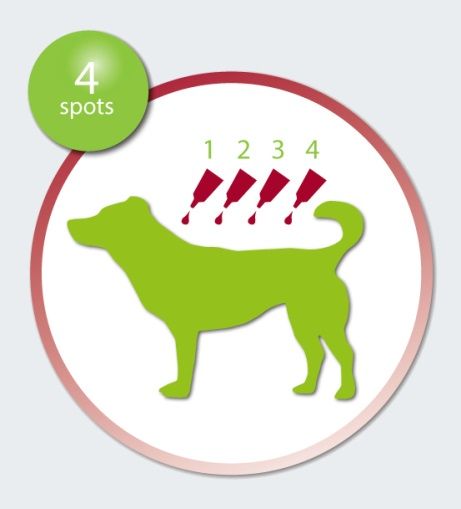 Dogs come in many sizes, so advantix® does too
| Weight of dog | Name of product |
| --- | --- |
| 1.5 kg - 4 kg | advantix® Spot-on for dogs up to 4 kg |
| 4 kg - 10 kg | advantix® Spot-on for dogs 4 kg up to 10 kg |
| 10 kg - 25 kg | advantix® Spot-on for dogs 10 kg up to 25 kg |
| 25kg - 40 kg | advantix® Spot-on for dogs over 25kg |