Frontline Fleas & Ticks Spray for Dogs and Cats 250ml
Clearance
Frontline Fleas & Ticks Spray for Dogs and Cats 250ml
What is Frontline Spray?
Frontline Spray provides long-lasting, effective control of fleas and ticks on your pet. It kills up to 100% of existing fleas in less than 24 hours. Frontline Spray continues killing fleas for an entire month or more.


For:
Cats and Dogs


Benefits:
Effective against severe existing flea and tick infestations, and kills chewing lice
Effective against all stages of ticks, including deer ticks (the major carrier of Lyme disease)
Helps control sarcoptic mange infestations
Remains waterproof for 30 days, even if your dog or cat swims or is bathed.


Made in France
---
---
Use Code F30 for Frontline Free Shipping
Details
---
100% Original
14 Days Return
Cash on delivery
---
Frontline Spray 250ml
How should be Frontline Spray be applied?
Wear household latex gloves. Hold the bottle in an upright position. Ruffle your pet's coat with one hand while applying spray mist to your pet's back, sides, stomach, legs, shoulders, and neck. For the head and eye area, spray Frontline on a gloved hand and rub gently into your pet's hair. Apply spray mist until animal's hair is damp to thoroughly wet. Approximately 1 or 2 pumps per pound of animal's body weight will be required. Reapply Frontline Spray after 30 days. Pet may swim or be bathed 24 hours after Frontline Spray is applied.
What happens if I miss giving a dose of Frontline Spray?
Reapply as soon as you remember the missed application, then resume monthly schedule accordingly.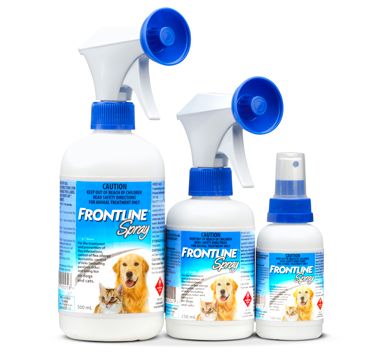 Product Size

FRONTLINE SPRAY comes in 100ml and 250ml sizes.

Protection and Treatment  
FRONTLINE SPRAY for Dogs provides your dog with protection against fleas and ticks in the following ways:
Benefits:

Effective against severe existing flea and tick infestations, and kills chewing lice
Effective against all stages of ticks, including deer ticks (the major carrier of Lyme disease)
Helps control sarcoptic mange infestations
Remains waterproof for 30 days, even if your dog or cat swims or is bathed.
Essential Info
Can be used on puppies from 2 days of age.
Always read the FRONTLINE SPRAY label for full administration details and safety directions.
Speak to your vet for further advice on flea control using FRONTLINE SPRAY.
Frontline Spray Directions:
Apply Frontline Spray once every 30 days.
Wear household latex gloves. Ruffle pet's coat with one hand while applying spray to back, sides, stomach, legs, shoulders, and neck.
For head and eye area, spray Frontline Spray on a gloved hand and rub gently into pet's hair. Do not get product in pet's eyes or mouth.
Apply spray mist until hair coat is damp to thoroughly wet. In most cases 1 or 2 pumps per pound of body weight will be necessary.
As with all flea products, wash your hands and any exposed skin thoroughly with soap and water after applying to your pet.
Important Information

Fleas rise to the top of your pet's coat as they die, so consider it a triumph if you start seeing more fleas at first, after treating your pet. If you're still seeing fleas after application, it may be because your pet has picked up new fleas from the environment, which may include other pets, surfaces and outdoor areas. It may take up to 90 days to break the entire flea life cycle. Additionally, you should also treat sources of new fleas (i.e., carpet, yard, etc.) to ensure complete flea control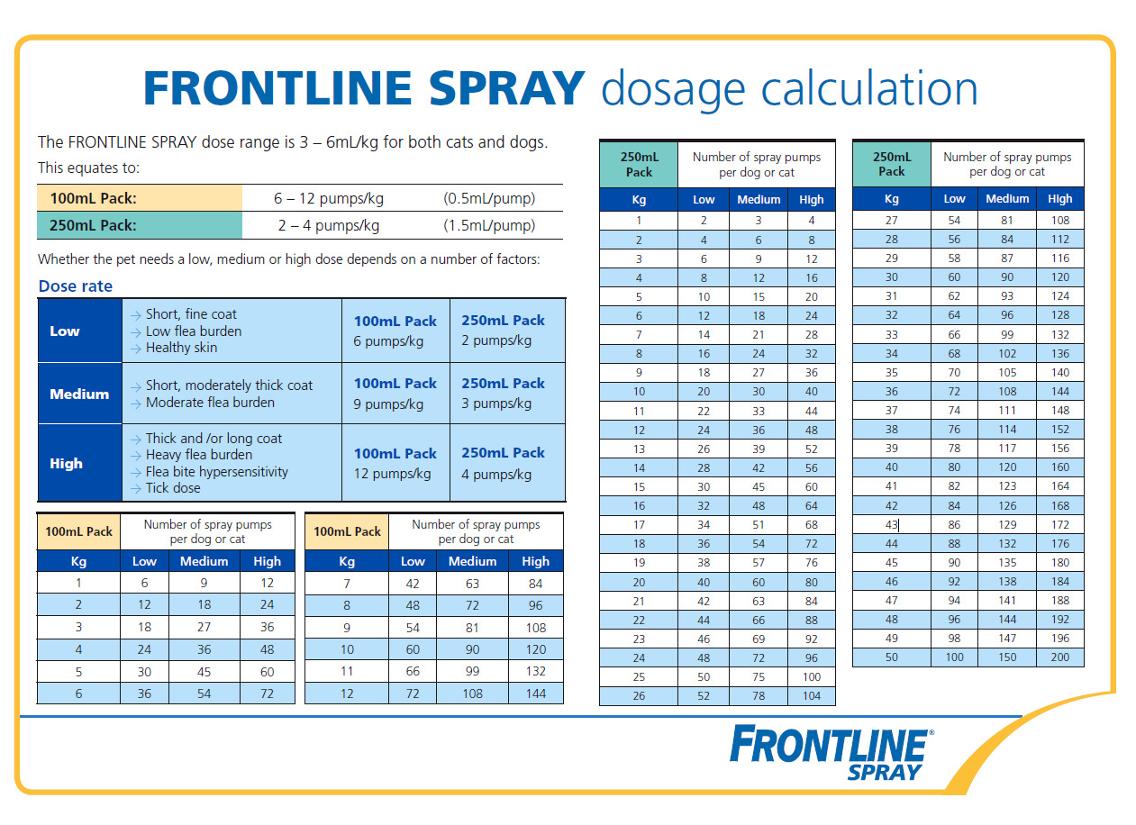 Brand

Frontline

BREED SIZE

Small Breeds

,

Medium Breeds

,

Large Breeds

,

X Large Breeds

LIFESTAGE

Kitten

,

Adult Cat

,

Adult Dog

,

Puppy