Simba Chunks With Guinea Fowl & Duck Wet Cat Food 415g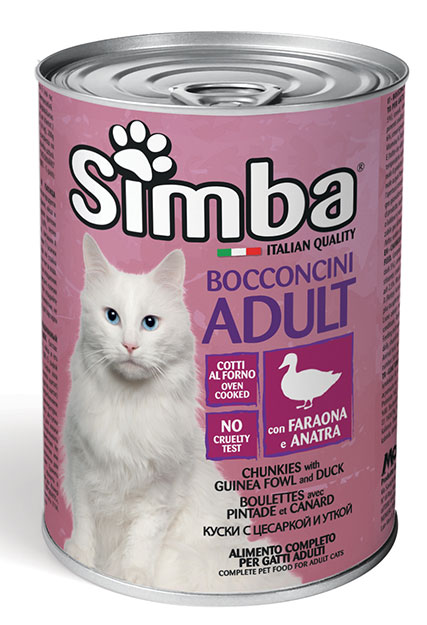 Simba Chunks With Guinea Fowl & Duck Wet Cat Food 415g
- Tasty chunkies with guinea fowl and duck, cooked in oven and seasoned French-style.
- For cats of all breeds.
- Nutritive value and digestibility:
high content in noble proteins and good vitamins integration, good digestibility.
- Perfume and agreeableness:
delicious scents of meat with the typical intensity of the main ingredient.
- COMPOSITION :
Meat and meat-by-products (of which guinea fowl 5%, duck 5%), cereals, minerals.
- ANALYTICAL CONSTITUENTS :
Moisture 80%, Raw Proteins 8%, Raw Fats 5%, Raw Fibres 0.8%, Raw Ashes 2.5%.
- NUTRITIONAL ADDITIVES ;
Vit. A 2000 U.I./Kg, Vit. D3 160 U.I./Kg, Vit. E (alpha-tocopherol 91%), 5 mg/Kg.
- For a medium size cat (3-4 kg), 400 grams of product shared in 2/3 meals.
- INSTRUCTIONS FOR USE :
To be served at room temperature, or warmed. Keep in refrigerator after opening. Do not give the
product too cold. Always leave fresh and clean water available to the animal.
- Made in Italy.
---
---
100% Original
14 Days Return
Cash on delivery
---